Strategic planning and Business Cases
Thanks to our mix of expertise, we are able to facilitate our clients in strategic issues, calculate different scenarios and support the implementation and operationalisation of the chosen strategy. Mapping out the various scenarios and alternative business cases forms an excellent  preparation in the execution of the strategy of the company, entity to be acquired or business unit.
Financial planning and financing
We offer support by implementing your financing structures through our extensive network. Possible sources of financing are traditional bank financing to leasing and sale & leaseback arrangements, from hybrid financing and club loans to corporate bonds and private equity placement. In a structured manner the possibilities are investigated and the various forms of financing are assessed and classified in terms of feasibility. We also provide application support and have a large network of capital providers at our disposal.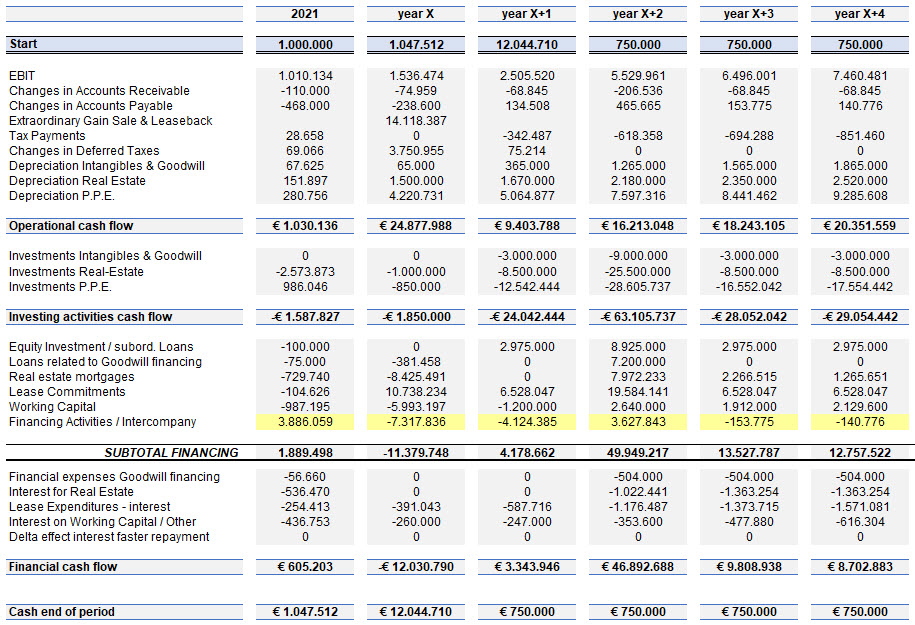 Management Information
In order to be in control, it is important to have insight into cash flow, business performance and the achievement of strategic goals. Timely adjustment and anticipation of changing circumstances is crucial. We help our clients to focus their reporting and identify the relevant elements of value in the business process. We provide insight through clear analysis of profitability and margin issues and support in drawing the right conclusions.
We assist organisations in making better decisions by "tying together" different systems and information sources in order to consolidate data from the underlying business management systems in an efficient and timely manner and translate this into usable management information. In this way, we help to steering operational processes, but also to achieve the strategic objectives.
Systems and Processes
Optimal deployment of management systems, ICT, authorisations and system access that fit the business processes contribute greatly to achieving the objectives. Within the technical possibilities we support organisations by closely coordinating process harmonisation and standardisation with the standards of adequate segregation of duties.
Our customised services include the deployment of a segregation of duties matrix, defining functional authorisation designs that fit process blueprints, and implementing authorisation governance. All of the above elements contribute to authorisation security and ensure process compliance.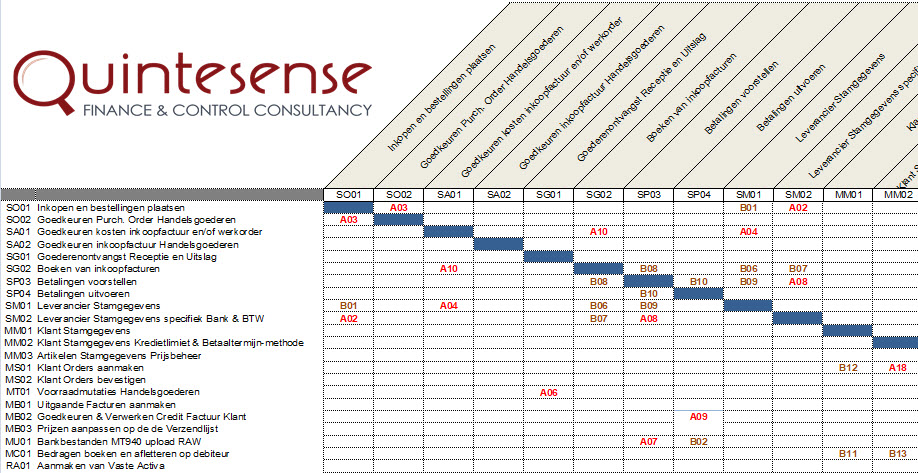 Internal Control
Quintesense is active in the field of (internal) auditing and the implementation of internal control standards. We support our clients in the area of administrative organisation and internal control. Because of our extensive Audit and Internal Control expertise, we are able to come up with practical solutions for gaps in the control environment without directly assuming the role of "police officer". Business Controls that not only work, but are also workable, that is at the heart of the matter.
Our services consist of consultancy and training in the field of Risk & Compliance. In consultation, we design risk & control frameworks in which a comprehensive analysis of the objectives and the relevant business risks are leading for the implementation of the administrative organisation and internal control. Furthermore, we perform so-called Quick scans, but we are also your partner for more extensive audits or forensic investigations.
Legal Services
Quintesense provides practical and solution-oriented financial-legal support for business issues. Topics on which our team of experienced professionals can advise you include mergers & acquisitions, due diligence, restructuring, bankruptcy and corporate recovery, legal entity forms that suit your objectives, corporate governance, and the proper application of company law.
Quintesense provides lawyers with accountancy-technical advice. Examples include advice on possible bankruptcy fraud or the explanation and interpretation of the various accounting directives such as IFRS.
We have both in-house expertise and a broad and extensive network of specialist legal service providers at our disposal to bring your challenge to a successful conclusion. By combining legal and financial expertise, Quintesense is able to advise in an efficient and practical manner.
Visit us at:
Nijverheidsweg 6
5627 BT Eindhoven
Postaddress:
Nijverheidsweg 6
5627 BT Eindhoven
Projects executed
Below projects are a selection of successfully completed projects::
On the initiative of a consortium of banks, conducting independent investigation into the investment and financing model of companies (Debt advisory), advising on feasible alternative financing arrangements and possibilities for debt restructuring.
Advising law firms on complex business- and economic issues.
Modelling acquisition scenarios and supporting fundraising activities. Designing a workable financing structure and overall financial planning, including liquidity planning and investment planning. Support with obtaining external financing such as by RVO innovative loans or through equity investments by investors.
Support with business acquisition, business and legal advice as well as the execution of Due Dilligence activities.
Assuming CFO roles in various bio-tech / lifescience start-up and scale-up environments, implementation of management and annual reporting, accounting and business control.
Designing transactional finance processes and implementation of Shared Service Centers and Business Process Outsourcing. Support with process blueprinting, process standardization and the

 

implementation of adequate segregation of duties.
Creation of Internal Audit and Internal Control departments, both in the Netherlands and abroad. Designing Internal Control frameworks which also cover effective automated/configuration controls.
Independently executing and providing support with fraud investigations and corporate forensic investigations.